news
New HPM MIKRON 800U Machine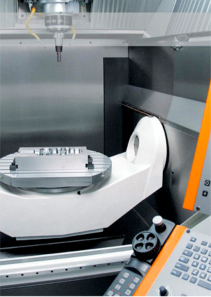 Mundimold has just bought a new Mikron HPM 800U, a machine that produces high quality parts using 3, 4 or 5 axes. The new unit features state-of-the-art heads (drive motor and electrospindles), direct drive rotation and tilt axes and a robust body delivering optimal conditions for cost-effective and highly precise production.

The unit is designed for use in a fully automated, fully simultaneous HPM (High Performance Machining) environment. In addition, direct drives in the 4th and 5th axes ensure maximum force in the tilt rotary axis enabling all simultaneous work to be done effortlessly on parts weighing up to 500 kg.

Our new Mikron HPM 800U means that at Mundimold we can now do anything ranging from heavy roughing work to precise finishing. It gives us a cutting speed up to 10 times faster than conventional milling machines combined with greater precision and better surface finishes.

The idea behind the acquisition of this machine is to enhance our processes and finishes so as to pass on the benefits to our customers in terms of improved finished product quality, costs and delivery times.