news
Mundimold to attend NPE2012, the leading fair in its industry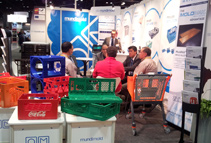 Mundimold will be at the next NPE plastics fair, which event organiser and plastics industry trade association the SPI has announced is to be bigger, better and markedly different from its previous incarnation. NPE2012 will be held from 1 to 5 April 2012 in Orlando, Florida, after spending the previous 40 years in Chicago. 
Mundimold is to present its main innovations at the fair. These include a shopping trolley mould which is designed to produce a trolley made entirely from plastic with a capacity ranging from 90 to 220 litres.
It is also to present its new mould for self-assembly agricultural boxes. The mould, which has extremely fast manufacturing cycles, makes a lightweight, folding box using optimised production processes.
The fair is to kick off on a Sunday for the first time and its packed opening day will include 14 hours of back-to-back technical sessions, panel discussions and networking events. There will also be an admission ceremony for new members together with award presentations to industry icons who have made outstanding contributions to the plastics sector throughout their careers.  
"We have designed NPE2012 to be a multi-faceted experience, with activities, discoveries and opportunities enough to satisfy the needs of anyone who works in the plastics industry or has a need to know about plastics," said Gene Sanders, SPI's Senior Vice-President. "The scope of our education programme alone makes NPE2012 unique among plastics expositions."  
Main events and programmes at NPE2012 include: 
World-scale NPE trade show, with 2,000 companies in 93,000 square metres.

Hundreds of conference presentations. Among the key educational programmes will be SPE ANTEC® 2012, the world's largest plastics technical conference; the SPI's Business of Plastics Conference, which will focus on timely topics of broad interest to plastics professionals, and the Latin American Seminar in Spanish, produced by publisher Publicar-B2Bportales. 

The 2nd International Plastics Design Competition,  soon to be open to product entries by designers, processors, mouldmakers and OEMs from around the world with end-use applications in any industry. The products in competition will be displayed during NPE2012 and the winners will be honoured in an onsite awards presentation. 

Technology pavilions. At least a dozen multi-exhibitor pavilions for specific sectors in the industry including elastomers and thermoforming as well as emerging technologies such as bioplastics and nanocomposites.

Special programmes. These include the "Plastics in Sports" programme featuring displays and demonstrations at locations around the show, a technology theatre which will enable exhibitors to offer product demonstrations and seminars, and "Recycling at NPE2012", a programme to recover processing waste and waste generated by consumers that shows how these materials can be reused. 
We will shortly let you know where the Mundimold booth will be so you can visit us or arrange a meeting. We look forward to seeing you there!
STAND 49046