news
Mundimold was at the largest Plastics Trade fair in Latin America.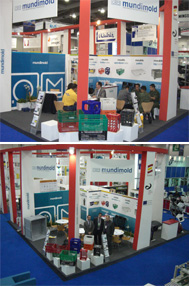 The 16th edition of Plastimagen Mexico, events leader in the plastics industry for Mexico and all Latin America, took place at the Banamex Centre 23 - 26 March 2010.
Mundimold set up its stand so companies primarily from the agriculture, logistics, bottling, food, and industrial sectors could familiarise themselves with our high quality products.
Participating in Plastimagen Mexico was important to Mundimold since more than 800 exhibitors from 21 countries took part in the 2008 edition and the expectations for 2010 were even greater.
This event was a great opportunity for the companies, but above all, it was perfect for discovering new products, trends, and to increase business network contacts with companies in Mexico and South America.
We thank everyone for passing by our stand and getting to know us personally. We hope that everyone was pleased with our products and innovations. We look forward to meeting you all again.