news
Mundimold opens new factory at Ribarroja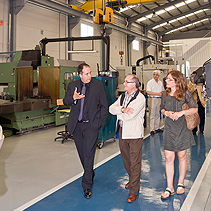 On Monday 28th June Mundimold opened its new production plant in Ribarroja del Turia. The ceremony was attended by the town's mayor, Francisco Tarazona, who was accompanied by the firm's Managing Director, Jorge Novella. Also present were numerous businesspeople and engineers from countries in which Mundimold operates.

Built at a cost of €3 million, the new 3,000m² facility substantially adds to the space available for making prototypes and enables key production resources such as the Design and R&D&I departments to grow. It also features a training room and a showroom for moulds and products.

The new plant has in addition brought with it investment in new production equipment, including a Mikron HPM 1000U, a continuous 5-axis high-performance palletized machining centre.

During his speech, the Mayor of Ribarroja said that the opening of the new factory was a very positive development that would create jobs in the town. Mundimold's Managing Director, Jorge Novella, then looked back over the company's history, highlighting milestones such as the opening of offices in the USA and Italy and the manufacture of the mould for Big Box, which is currently produced by only three companies worldwide.

Novella went on to underline Mundimold's R&D&I programme which is designed to optimize production by cutting manufacturing and lead times. He made special mention of the company achieving the world's fastest two-cavity mould production cycle in partnership with German multinational KraussMaffei.

After years of expansion and internationalization, the opening of this modern, functional plant meets the new needs of an international and globalized market. Mundimold currently makes moulds for customers in Mexico, Chile, Greece, Italy, Germany, Colombia and the United States.