news
Design and manufacture of molds of 2 new models of Big Boxes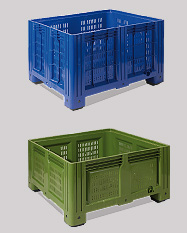 The two new models that have been developed are , a high volume Big Box, dimensions1130x1130 and of 2 heights, 760 y 610 mm, and another standard Big Box, with dimensions of 200x1000x760.
Both have been designed to transport and store a large quantity of products while optimizing space, being easy to clean, and manufactured with high quality, non toxic materials.
The design of the molds has been developed in order to optimize the production cycle to 128 seconds, all the mold systems have been studied in detail to allow simple maintenance.
These molds allow us to different heights and in both cases, perforated and non – perforated versions. The combination of all the different versions can be directly configured in the injection machine after having developed a system of rapid inserts.