news
Mundimold will inaugurate new instalations in March 2010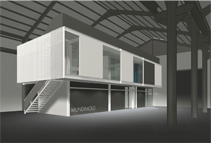 Despite the difficult world economic situation, Mundimold is going to remember 2009 as one of the most important in its history

With a global investment of three millon Euros, Mundimold is contructing

new instalations at the l'Oliveral Business Park, one of the best known logistical enclaves in Spain, very close to the city of Valencia and in the centre of the meditarranean corridor, to where a move is planned for March of 2010.

The new installations provide aproximately 3.000 m² of space, improving substantially on the facilities and services of the current instalations. They increase the space for the production of prototypes, and entail the expansion of the Design, Commercial, and R&D+i departments, which will now occupy some 500 m². Another new addition will be the additional creation of an exhibition space as well as training facilities.

These installations, being more modern and with a clear avante-guard design, will cover, after years of expansion and internationalisation, the new needs of a global, international market.

With the inauguration of these instalations a new era is opened for Mundimold, marked by progress, growth and committment.