news
Mundimold's participation in the International showcase in Chicago (NPE 2009)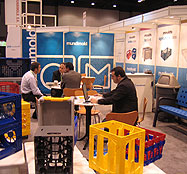 Mundimold S.A. participation in the International Plastics Showcase (NPE) which was held in Chicago, Illinois June 22nd through the 26th.
If we take into consideration the current global economic situation, Mundimold's participation in NPE 2009 is even more relevant than it has been in earlier editions since the same economic and human effort has been put forth. What's more, Mundimold has relied on being one of the best, among the leading and most innovative companies and trying to make a name for itself in the most important trade fair in the world dedicated to the plastics industry.
This year's showcase provided unprecedented joint location events and special events such as conferences with more than 1000 presentations, professional expositions from mold and quick product development factories, the first ever International Plastics Design Competition, pavilions for several emerging and specialized technological exhibitors, and much more.
Plastics professionals from almost 20,000 businesses arrived at NPE2009 throughout the week of the showcase in order to discover innovations, network, plan purchases, and in many cases, close deals.
Mundimold S.A. set up an important stand at the fair where a lot of commercial and social activities took place with clients and businesses from around the world.
Business expectations established before arriving to the fair were far exceeded and the general evaluation of the event was very positive. All that's left is to thank the fidelity and confidence of the businesses that visited us these days and to invite them to future meetings.