news
Mundimold attends K 2010, the leading plastics and rubber trade fair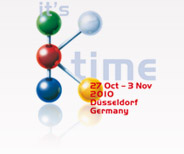 From 27 October to 3 November, Düsseldorf played host to the K 2010 trade fair. Over 3,100 exhibitors from 57 countries showcased their latest developments at the event widely viewed as the world's number 1 for the plastics and rubber industry.

At the event, Mundimold presented its range of premium quality products for industrial, agricultural, bottle and food companies.

K 2010 offers a more extensive array of products and new items than any other plastics and rubber industry fair. This year, it featured numerous examples of energy-saving applications and production processes that conserve resources.