news
Mundimold manufactures a Great Volume Big Box for the Italian company Capp-Plast
Mundimold has developed for the Capp-Plast company the new Big Box Great Volume with dimensions 1125x1125 and 4 heights (580/610/630/770). A new solution for the agricultural sector.

These molds are designed to transport and store large amounts of products optimizing the space, easy to clean and made with non toxic materials ​​of high quality.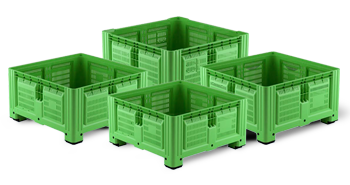 Larg Container 1158F
Weight: 28,5 kg
Height: 580 mm
Interior capacity: 500 l
External measurements: 1.125 x 1.125 x 580 mm

Larg Container 1561F
Weight: 29,4 kg
Height: 610 mm
Interior capacity: 524 l
External measurements: 1.125 x 1.125 x 610 mm

Larg Container 1563F
Weight: 29,9 kg
Height: 630 mm
Interior capacity: 550 l
External measurements: 1.125 x 1.125 x 630 mm

Larg Container 1577F
Weight: 34 kg
Height: 770 mm
Interior capacity: 715 l
External measurements: 1.125 x 1.125 x 770 mm