news
New Mundimold plant to open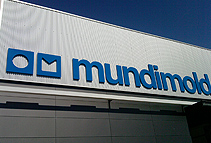 On Monday 28th June Mundimold is to open its new production plant in l'Oliveral Business Park (Ribarroja del Turia – Valencia). At a total cost of around €3 million, Mundimold has built a 3,000 m² facility that adds to the area available for making prototypes and enables the Design, Sales and R&D departments to grow.

After years of expansion and internationalization, this modern and functional plant meets the new needs of an international and globalized market.

State-of-the-art technology
In addition to the plant, the company has also invested in equipment which has involved the purchase of new and improved production machines. These include a Mikron HPM 1000U, a continuous 5-axis high-performance palletized machining centre.

Alongside the Ribarroja del Turia production plant, Mundimold has recently opened its US headquarters in Miami (USA)., and is also planning to open a facility in Colombia in 2011. This will complete the firm's international expansion plan designed to meet growing demand in the Latin American market and especially in countries such as Mexico, Brazil and Colombia.

The start-up of these facilities is the beginning of a period for Mundimold set to be marked by progress, growth and commitment to quality and customer service.