news
New Machinery Mikron HPM 1000U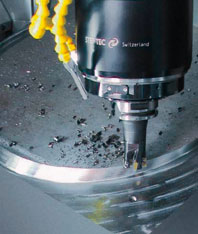 The HPM machines are designed for the universal production of high quality pieces in están diseñadas para la producción universal de piezas de gran calidad en 3, 4 or 5 axis'. The electro – spindle with direct motors on rotating axles and a solid structure, offer the best conditions, together with modern tooling, to achieve a precise and economical production.
Mundimold has recently aquired a five axis' mechanisation centre, giving high performance continuous palleting.
This system for changing the pallet, with five stations, provides flexibility when planning production. It maximises the production time of the machine, achieves a faster action with shorter start up times for production runs.
In addition, the mechanisation in 5 continuous axis' can access difficult areas under better conditions (cantilevered tooling), which results in shorter mechanisation times and a better quality of finish compared to three axis machines.
Indexed mechanisation in 5 axis' takes maximum advantage of each manipulation of the piece as it can be attacked from five distinct directions.